Round'em Up, Buckeroos!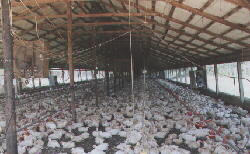 Here'a chance to have your own ranch. It's a chicken ranch, podnuh. Over 240,000 head of these little peepers per year.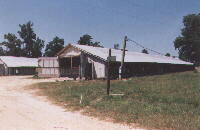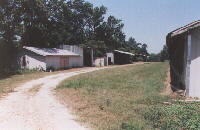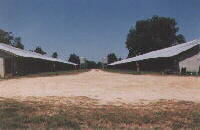 It's located on a sprawling 20 acres just off of Highway 26, west of Wiggins. It is fenced, cross-fenced and has pasture, woods and a pond. It comes fully equipped for production. Equipment includes a Kubota M6950 tractor, 6 ft. bush hog, Lewis manure collector/spreader and 25 KW PTO generator. Buildings include 2-40x400 ft. production sheds, equipment shed, compost-hay shed and storage shed. Extremely rich manure by-product may be sold or used to fertilize pasture land or vegetable gardens.
This is a money maker. There is currently a long-term contract with a major national processor. (Must be renewed with any ownership change.) Chicks are provided and delivered by processor, as well as feed, medicine and veterinary assistance. Processor's representative visits regularly for quality assurance. You provide water, utilities and day to day care and supervision. Feeding and watering are automated. At the end of the 50 day raising cycle, the processor gathers the stock and trucks it off to their plant. The property produces 6 batches per year. It can be run as a "Mom and Pop" operation. The price is $160,000.
For further details, please contact me via any of the means listed on the home page.