Ginn Realty
Real Estate Sales
Homes & Land - Picayune, Pearl River & Hancock Counties, South Mississippi
---
Shhhhh.........
Don't tell everyone. (Don't tell anyone.)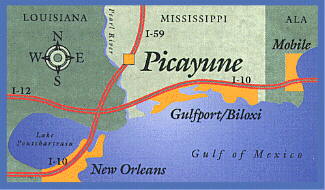 They'll all want to come to Picayune, Mississippi. You couldn't really blame them, though. Who wouldn't want to enjoy the relaxed life-style, the temperate climate (Leave that confounded snow shovel at home), the friendly people, the ideal location. We are centrally located within one hour of the cultural and entertainment attractions of New Orleans; the beaches, golfing, gaming and fishing of the Mississippi Gulf Coast; and the city of Hattiesburg - home of the University of Southern Mississippi.
And please don't tell them about Hide-A-Way Lake....

You know. It's that gated community with the 189 acre lake. The one with the swimming pool, marinas, playgrounds, horse stable, pasture, renowned restaurant with meeting & reception rooms, game room. And keep it mum about the 9+ pound bass, the 4 pound crappie. And the 18-hole Millbrook Country Club golf course next door, too.
But, if they find out anyway....


Of course, there's only so much you can do to keep a secret. You tried. But maybe they were rummaging through your things and found the descriptions of the fine properties which that nice fellow, Paul Ruiz, from Ginn Realty sent you. Well, just tell them they can get their own stuff. Have them contact Paul at:
E-mail - ruizpaul@fnbop.com
Paul J Ruiz, c/o Ginn Realty

P.O. Box 954
Picayune, MS 39466
601-798-1757 Office

601-798-2439 Home
800-428-5253 in MS or LA
601-798-6550 Fax
Ask them to describe the type of property that would fit their real estate needs, whether it be homes, land, lots or acreage. Include price range, size, bedrooms, acres etc. Paul will send them detailed information promptly. But, please ask them not to tell anyone else!
---
Click here to send a note to Paul - ruizpaul@fnbop.com - Request a FREE brochure
---
-A sample of waterfront properties-




$225,000 $143,900 $189,500 $179,500



Click here for more details

This page has been visited
times.
BEST
of POD